About Tilt In Windows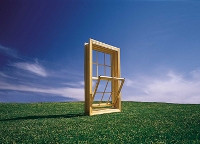 Tilt in Windows
A window sash is a small frame that holds window glass inside of a larger window frame.  A window typically opens by sliding the window sash up or down inside the window frame.  There are typically two window sashes for each opening window.  If one or both of these sashes also tilt into the room, allowing the homeowner to clean the outside of the glass from the inside of the home, the window is referred to as a Tilt in window.
Benefits of Tilt In Windows
Tilting the window sash into the room allows the homeowner to clean the exterior glass from inside the home.  This can be helpful if the window is on a second floor… no ladder is needed.
Window sashes that tilt into the home can usually be lifted completely away from the window frame without uninstalling the window entirely.  This is handy if for any reason the glass were to break.  A complete new window would not be needed.  The manufacturer would simply send a new sash, complete with new glass that replaces the broken one.
Disadvantages of Tilt In Windows
Theoretically, the hardware that allows the "tilt-in" function to work could break down over time.  This cause quicker window breakdown.  Problems with "tilt in" hardware are extremely rare, however.
The truth is this: If I had to guess, I'd say that 80% of my customers forget the the sash tilts in. How often do you open your windows in the Dallas / Ft. Worth area? The Tilt In window feature is nice when cleaning the windows. The Tilt In feature can keep you off of a ladder if you have second floor windows but other than that, everyone forgets. Most reputable manufacturers ONLY produce windows that tilt-in but I wouldn't pay extra for this feature if you find that it's an option.
Please provide a post ID if you want to show an address outside a Locations singular page