Double Hung Windows Dallas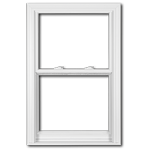 A window sash is an interior frame that holds window glass inside of a larger window frame.  A window typically opens by sliding the window sash up or down inside the window frame.  There are typically two window sashes for each opening window.  The term "Double Hung" simply means that the window opens by raising the bottom sash up or pulling the top sash down – each sash is moveable.
Benefits of Double Hung Windows
Open during bad weather:  typically, you wouldn't want your windows to be open while it's raining but if you live in a single-story home, your overhangs probably block the rain from hitting the top 1/3rd of your windows.   Double Hung Windows allow you to open your windows from the top while the bottom is closed.
Pets:  If you open your windows, would your cat lie against the screen and push it out?  Would your cat "claw" your screen?  If your dog got too excited, would he simply run through the screen?  These problems are solved by opening yourwindows from the top.
Cleaning: Today, double hung windows are usually also "tilt in" windows.  This means that each sash not only slides up and down, but also tilts in toward the house so that the outside of the window is accessible for cleaning.  Once the window is clean, it can be tilted back into place.
 Disadvantages of Double Hung Windows
Potentially Less Efficient:  Moveable sashes are made to be energy efficient with weather-stripping.  Weather-stripping by definition is less energy efficient than permanently secured window sashes.  If a window is installed incorrectly and the window frame is allowed to bow outward, obviously the weather-stripping might not maximize the potential efficiency of the window.
Having said all of this, most people quickly forget that the top sash moves. Unless you're absolutely sure that you'll take advantage of the "double hung" option, I wouldn't pay more for the feature.
Please provide a post ID if you want to show an address outside a Locations singular page