About Vinyl Replacement Windows
If the frames of the windows are made of vinyl, the windows are called a "Vinyl Replacement Windows" (The term "Vinyl Replacement Windows" refers to the frame of the window).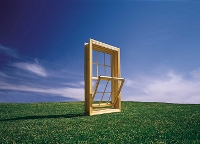 Vinyl, more than wood or metal, is a relatively inexpensive product for making window frames, meaning that costs can be kept low. There are many reasons why Vinyl Replacement Windows dominate the Replacement Window market but the primary benefit is Energy Efficiency, especially in primarily warm climates like that of Dallas. Vinyl Replacement Windows conduct less heat and cold than metal (Aluminum or Steel) windows. Direct sunlight can heat a metal window frame to temperatures far above the temperature outside, but vinyl windows stay relatively cool and resist the transfer of heat / cold to the inside of the home.
Benefits of Vinyl Windows Low Cost: Mass production has lowered the cost of vinyl replacement windows and made them the most affordable option for energy efficiency available.
Less Conductive than Metal (more energy efficient): Inside, vinyl window frames remain relatively cool even as the outside temperatures rise. Outside, vinyl window frames resist temperatures that would cause the exterior silicone seal to fail.
Low Maintenance: Vinyl windows never need to be painted. They do not rot or get eaten by termites or carpenter ants. High quality vinyl windows do not fade, warp, rust or corrode. Occasional rinsing with a common water hose is smart but not entirely necessary to maintain the look of new vinyl windows.
Noise Reduction: Vinyl is a poor conductor of sound. The same things that make vinyl windows energy efficient also make them sound efficient.
Flexible: Vinyl frames flex and move as a home moves without affecting the seal or the energy efficiency of the window.
No Condensation: Metal windows sweat in the winter because when warm (moist) interior air cools rapidly against cold window frames it contracts and releases moisture. Inside, vinyl window frames remain relatively warm even when the outside temperatures are freezing.
Disadvantages of Vinyl Windows Color: Because dark colors absorb heat, manufacturers of vinyl replacement windows are reluctant to offer dark colored windows. If the vinyl were to absorb too much heat, they would warp. For this reason, vinyl windows are primarily offered in standard white and tan (beige, almond) colors. In some cases, other colors can be laminated onto the window at an additional cost. If the benefit of vinyl windows is that they never need to be painted, the disadvantage is that they are very difficult to paint even if you wanted to.