Vinyl Home Replacement Window Company - Dallas
Adams Exteriors - Dallas is proud to offer a smart replacement window alternative to the "bottom of the barrel" window companies and the "10 acre warehouse" hardware super-stores in the Dallas / Ft. Worth area. Adams Exteriors - Dallas is a local Dallas Tx area, family owned window supply and installation company that specializes in quality energy efficient replacement windows at Factory Direct prices.

Our "Quick Quote" link (above) will get the ball rolling. Adams Exteriors - Dallas will be happy to schedule a NO PRESSURE on-site window assessment at your convenience. We will measure each window and provide an overall estimate (valid for one year) and a breakdown of that estimate that shows the cost of each individual window.

By purchasing quality vinyl replacement windows direct from the factory and using manufacturer certified installation teams, Adams Exteriors - Dallas is able to keep costs down and pass those saving on to our customers.
The most Energy Efficient Home Windows at Affordable Prices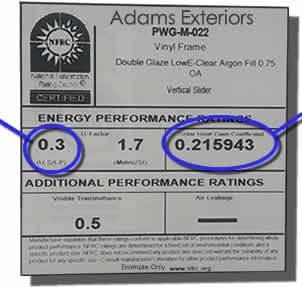 U-Value measures the rate of thermal transfer. That is, how quickly hot and cold temperature stransfers through the closed window and begins to effect the interior temperature of the home.
Lower the better! A window with a U-rating of .4 is approximately 30% more energy efficient than one with a .5 rating. The example to the right displays a U-Rating of .3 - This window would qualify for the Energy Star Rating (.3 or lower) and is considered an Energy Efficient Window.
If an Energy Efficient Window meets NFRC standards, it will be tagged with a sticker that displays that specific windows rating.
The label should display the manufacturer, the details of the window (type of glass and gas fill) and a measurement of Thermal and Solar transfer.
The SHGC (Solar Heat Gain Coefficient) is a measurement of solar energy. This indicates how quickly solar energy (UV-Rays) penetrate the window.
Lower the better! Even among windows that are technically "Energy Efficient", this number can vary wildly between manufacturers and product lines. A .30 earns an Energy Star rating but it's not uncommon to find windows with .17 - .24 SHGC.
Keys to Finding a Great Deal on replacement windows near Dallas Tx: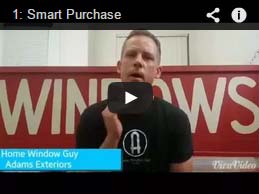 The first key to getting a great deal on windows in Dallas Tx, is to not buy replacement windows if it doesn't make sense to. The average legth of time that people are staying in their home is now 5 years. Of course, we are including 'first time buyers' and home flippers into that average but nevertheless, 5 years isn't that long. Replacement Windows are an investment and all investments take time to pay for themselves.

Our general rule of thumb is this: If you don't know for a fact that you're going to stay in your home for another 4 years, you should NOT update with replacement windows. Unless your windows are dangerous or extremely unsightly, there is no way to justify the cost. The purchase that you make will finally have paid for themselves years into the new owners stay. However, if you are sure that you'll still be living in your home in the next 6 years, you should replace your windows at the first opportunity. Replacement Windows don't start paying for themselves until they are installed and the work is done.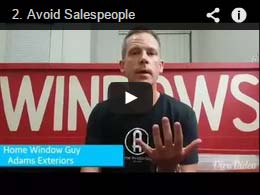 The second key to getting a great deal on replacement windows in Dallas is to avoid salespeople. Look, all construction related industries get a bad rap based upon the shady salesmanship of a few. The good news is, if you already know that you need to update with energy efficient replacement windows, why do we need salespeople at all?

At Adams Exteriors - Dallas we employ Projet Managers who are responsible for the details of your project. They, however, do not get paid a percentage of the profit the way that the typical salesperson does. So, there are no "high pressure" sales tactics... there is no phone call every night to badger the customer about their windows. More than that, when we subtract the salesperson we can standardize our prices.. meaning, each customer pays the same amount for a given window regardless of their income. Nobody is trying to get rich off of you.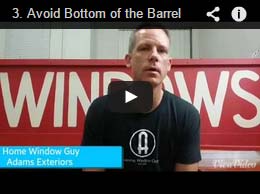 The third key to finding a great deal on energy efficient replacement windows is to avoid the "bottom of the barrel". Window prices can fluctuate. One manufacturer could offer great deals on slider windows while another offers deals on bay windows. However, when you find the cheapest installed window on the market, you've found the bottom of the barrel. Avoid it.

Bottom of the Barrel windows have a way of becoming extremely costly in the long run. Either they come with surprise expenses of so many headaches that you're disgusted by your poor choice every time you look at your home. It's not worth it. There is absolutely no reason why, with a little homework, we can't find a high quality "mid-grade" window for an affordable price. Obviously, "a great deal" doesn't always mean the "cheapest".

White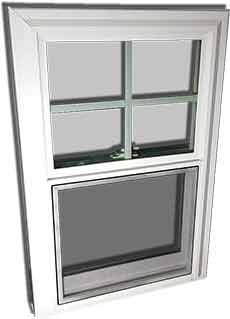 Beige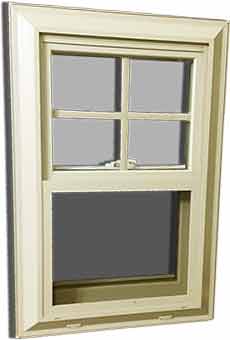 Clay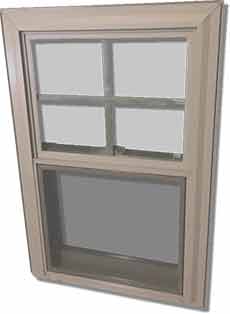 Painted / Laminated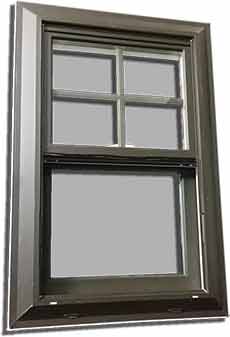 Standard Color
Extruded white vinyl replacement window frames are the least expensive color option. The vinyl itself is white, is not painted and will never need to be painted. There is absolutely no risk of warping and maintenance is almost completely unnecessary.
Standard Color
Extruded beige colored vinyl replacement window frames are as common as white. Occasionally a manufacturer will offer an "Almond" color replacement window (a little more yellow than beige) as a substitute. Beige windows typically cost a little more than white.
Standard (conditionally)
Extruded clay colored vinyl replacement window frames are becoming more common. Clay is the darkest color that most vinyl producers will extrude for replacement windows. Dark colors absorb heat and if the window gets too hot, it will warp. Extruded clay colored window frames are safe from warping but we wouldn't recommend anything darker.
Special Order
Obviously, anything is available at a price. Manufacturers are sometimes willing to paint windows (with a reduced warranty) or laminate them. Adams Exteriors will regularly sell and install dark painted / laminated replacement windows after approval from the customer.
Daily Window Info
Window Buying Guide
Forget what the ads say. Saving money on your energy bill is not the reason to replace your windows--it could take decades to recoup the $8,000 to $24,000 you'll spend on new windows and installation. Energy Star-qualified windows can lower your energy bills by 7 to 15 percent. That's only $27 to $111 a year for a 2,000-square-foot single-story home with storm windows or double-pane windows, $126 to $465 if your home has just single-pane windows, according to Energy Star.
But new windows can enhance the look of your home and make it less drafty and quieter, and they're easier to clean and maintain than old windows with combination storm and screens. Use this buying guide to help you before you shop or request bids.
To find out which windows will keep your home comfortable and dry, we tested 21 double-hung and 4 casement-style windows for air- and water leakage. We found significant differences between brands in types and frame materials. Working with an outside lab we subjected the windows to heavy, wind-driven rain and winds of 25 and 50 mph at outdoor temperatures of 0°F and 70°F. Given the high cost of replacing windows, the more you know, the better so don't rely on a contractor to choose. Use our Ratings to guide you and search manufacturer websites for ideas and design tools.
Quick Links
Chamber of Commerce

Recent Projects

Area Served
Locations
Adams Exteriors


3010 LBJ Freeway, 12th Floor


Dallas Tx. 75234 USA

(214)349-7283

info@adamsexteriors.com

Mon-Sat

7am - 7pm

Adams Exteriors - Ft Worth


9500 Ray White, 22nd Floor


Ft. Worth Tx. 76244 USA

(817)898-0149

terrant@adamsexteriors.com

Mon-Sat

7am - 7pm

Adams Exterior - Plano


1120 E.15th St. #3109


Plano Tx. 75074 USA

(469) 619-2607

plano@adamsexteriors.com

Mon-Sat

7am - 7pm

Getting the ball rolling

1. Call or Quick window Quote

The best way to get started is to call or email our office or save time by filling out our "Quick Quote" form (right).

One of our representatives is waiting to help you with your project. We will ask about your specific situation and do everything that we can to help you with your project.

Even if you're not sure who to call or what kind of company might handle your work... if we can't help, we will do our best to point you in the right direction.

2. Window Estimates

Window Estimates are always scheduled at the customers convenience. They are detailed, prompt and always free of charge..

At Adams Exteriors we do our best to provide estimates that are valid for a long period of time throughout Dallas and Ft. Worth. We would like to offer every customer the opportunity to consider every option before making a commitment that they might later regret. We DO NOT pressure our potential customers the way that some others do. In return, we ask only for the opportunity to compete for your work.

3. Order, Manufacture & Delivery

Once the estimate is accepted, the ordering and vinyl window manufacturing process could take two weeks or four weeks, depending upon the product (large windows, tempered glass).

Vinyl Windows often take 2 weeks to manufacture. However, Adams Exteriors is commited to the process of correctly ordering and scheduling the delivery of all matericals in a timely manner.

4. Installation & Inspection

It is unusual for a window project to take longer than a day for installation. Adams Exteriors is proud to employ some of the best window installers in the area. Adams Exteriors - windows would like each of their customers to feel like their time is valued and schedule is respected.

The project is not finished until after a full inspection.

Tax Credits and Incentives