About Single Hung Windows
A window sash is a small frame that holds window glass inside of a larger window frame.  A window typically opens by sliding the window sash up or down inside the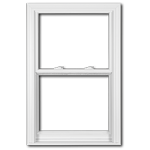 window frame.  There are typically two window sashes for each opening window.  The term "Single Hung" simply means that the window opens by raising the bottom sash only, while the top sash remains stationary.
Benefits of Single Hung Windows
Window sashes that are stationary are usually more energy efficient than ones that move and rely on weather-stripping for their seal.
If a window sash does not move, there are fewer working parts that might eventually break down over time.  This could potentially decrease the instances of repair that might be necessary during the life of the window.
Single Hung Windows should be less expensive than Double Hung.  Building a Single Hung Window is not nearly as labor intensive as a comparable Double Hung Window.  Because there is less hardware to facilitate the operation of the upper sash, there is less cost to build the window and the overall price of the window should reflect this savings.  Unfortunately, this isn't always true.  As fewer window manufacturers offer Single Hung Windows, the price of Double Hung is becoming more competitive.
 Disadvantages of Single Hung Windows
Depending upon the situation, cleaning the exterior of a window can be done more safely from the inside.  Single Hung windows must be cleaned from the outside.  Second story windows would require a ladder.  Some second story windows are completely inaccessible.
Q&A
Q:  Are Single Hung Windows more Energy Efficient than Double Hung Windows?
A:  They can be.  Double Hung Windows require more weather-stripping to seal the top (moveable) sash.  Weather-stripping is not as energy efficient as a permanently mounted sash.
Q:  Are Single Hung Windows also "Tilt-In" Windows?
A:  Only the moveable sash can be tilted.  The upper sash (or any stationary sash) does not tilt.
Q:  Are Single Hung Windows less expensive the Double Hung Windows?
A:  They can be.  This will depend on the manufacturer.
Please provide a post ID if you want to show an address outside a Locations singular page